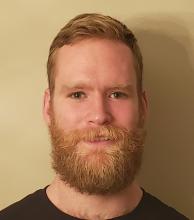 Daniel Groves
Biography:
Daniel received his BS in Biochemistry from Georgia Tech in 2019. Currently he is pursuing his MS in Bioinformatics at Georgia Tech. In his free time Daniel enjoys playing rugby and line dancing.
Research Interests:
I am currently researching software and algorithm development for eukaryotic gene prediction. Our methods include unsupervised machine learning, Bayesian modeling, and hidden Markov models.
Previous research includes industrial biocatalysis (wet lab) and molecular dynamics of microtubule-severing enzymes.